Hey guys!
How're you people doing? Sorry for such a late blogpost,was quite busy with my mid-sems. But Hey! I hope you all are doing great. Time flies really,two months in Bangalore already. 😻
Today I will talk about an immortal trend, everlasting and always better than what it was. It will be a petty one. Have you seen the old 90s actresses wear those flary sleeved dresses and tops? Or maybe recently spotted some Fashionista wearing those effortlessly beautiful outfits that were solely centered around those eye-catching sleeves? Yes,those are THE BELL SLEEVES!
It was a part of aristocratic wear in the Roman era and later trickled down even to the common masses. Bell sleeves has its tale begun when fashion sprung through the streets of Paris. All high-fashioned people were seen in all kinds of variations in bell sleeves. It was huge,back then and was in the markets for long enough. It had faded a little in 60s and 70s,but still had its presence felt. It sprang back in 90s and then has made a dashing comeback at a time when all its fellow trends are wrecking the markets already.
I remember having a bell sleeve khadi top when I was a kid and always found it so fun to wear. Wiggling around those arms as the sleeves started dancing with the breeze. As kids,we all like things that are exciting than the normal basic stuff, isn't it?
Let me know what you loved to wear back in childhood in the comments section below!
That extra detailing in gowns and classic pieces is common. But whats so unusual these days is,bell sleeves is found in every other piece from dresses to wrap up tops. Short to frilled, beautiful flared sleeves. I have seen kurtis with bell sleeve hands,yes,kurtis!
If you are planning to buy something for fall. Go for a bell sleeve top or dress. I got this beautiful bohemian plum bell sleeve dress from Forever21 and the I dont know why,the feeling it gives is so comfy. Something that looks good and feels good? Yuss! This was for a day at the Bannerghatta National Park and it just gave enough of that nature vibe with the flower on the sleeves and the neck. Its a beautiful piece with a low neck. So I wore a black camisole inside. Paired it with triangular bronze earrings and brown sandals. A plum lip and subtle pop of maroon to the eyes to tie the look together. And the sleeves? A great addition to a very normal look otherwise.
Try these looks maybe?
1) For people who love flaunting their arms – Bright colored or Floral dress with short belled sleeves.
2) For curvy girls- Palazzo pants with a wrap around top with long bell sleeves.
3) For plus size women- Maxi dresses with sleeves at the elbow.
4) Grunge look- Bell sleeved top with a half denim jacket and some killer black jeans.
5) For ethnic lovers- Basic block colored bell sleeve top with beautiful ethnic skirts or even a blouse that has that flick sleeve detailing.
Some that catched my eye-
Click on these pictures below to get directed to the website and make your shopping easy 😊
1)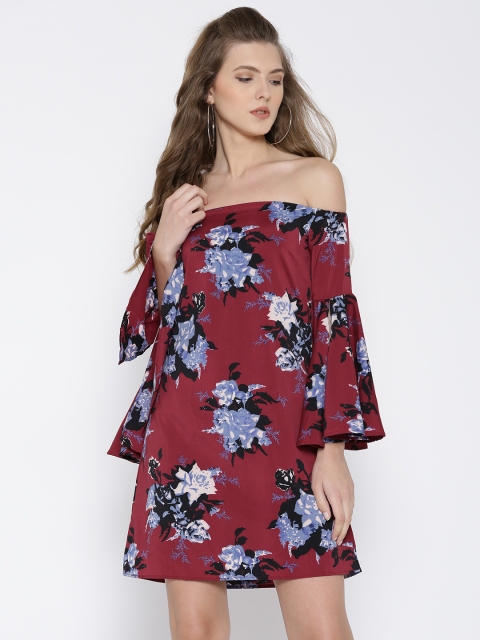 2)
3)